Cost-saving up to 27 per cent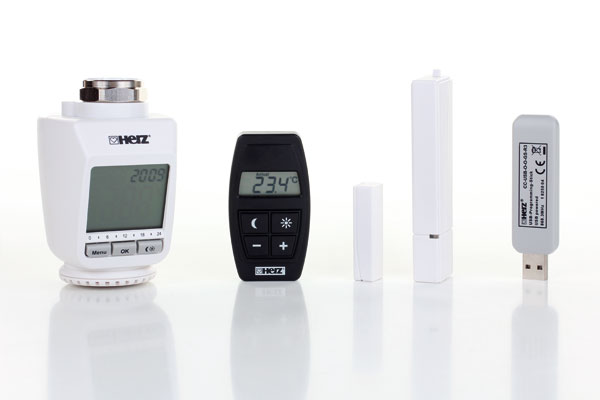 With the thermostatic head 1 8250 01 HERZ offers its customers a programmable room temperature control, that responds flexible to the individual needs. That makes possible a cost-saving by heating up to 27 per cent and a particulary fast paying off.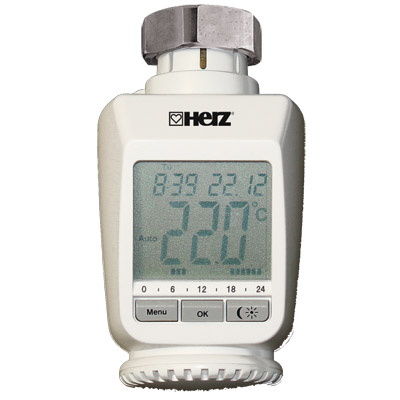 The electronic thermostatic head provides a time-controlled adjustment of the room temperature with the help of an integrated actuator that regulates the heat flow coming to the heater.
The big-sized backlit display provides an easy operation. The electronic thermostatic head integrates a wireless receiver that can receive the signals from other system elements such as remote controller, window contact and USB program stick. It is ideally to use with HERZ thermostatic valves.
The electronic thermostatic head operates with 2 Batteries (LR6) which are – depending on the conditions - ready for use up to 2 years.
Low battery status is displayed on the LCD. An operation with rechargeable batteries is not possible.
Following the basic set-up (of e.g. date and time) the thermostatic head has to be mounted on the valve. It is adjusting itself by pressing "OK".
For each day a maximum of 3 heating periods (7 switching times) can be set individually.
The factory-set contains of 2 heating period (6.00 to 9.00 a.m. and 17.00 to 23.00 p.m.) for each days.
The individual settings can be made prior to installation.
In automatic mode the temperature can be set via the hand wheel at any time and will be kept until the next program change or manual change.
Operating mode:
Es kann zwischen drei Betriebsmodi gewählt werden.
Automatic: weekly program, automatic temperature regulation according to the stored program. Manual: manual operation, temperature selected by the handwheel Holiday function: setting a temperature to a certain point of time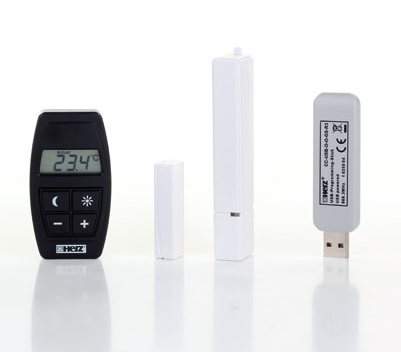 Wireless and system components
The electronic thermostatic head can also be operated by the wireless system components. Remote controller, window contact and USB program stick are available. The transmitting frequency is 868.3 MHz. Since this frequency is not exclusive, it can interfere with electric motors and faulty electronic devices. The indoor range can significantly differ from the outdoor range.