Heating and Cooling made intelligent
HERZ clever&smart is the intelligent solution to adapt your home to your needs. The HERZ clever&smart family is the complete package for an intelligent and controlled heating and cooling system. Whether wired or wireless, heating or heating and cooling - HERZ clever&smart family offers the right and smart solution for all comfort lovers.
Consisting of a control box, a room controller and additional LED controllers or room sensors, HERZ clever&smart can be assembled individually. A distinction is made between systems for heating only or heating and cooling.
The control box is not only a simple signal distributor, but a heating and cooling controller. The flow temperature can be controlled according to weather conditions and dew point. The room controller climate, equipped with a colour touch display, measures the temperature as well as the relative humidity. It is also used to configure and operate the system. The LED controller climate additionally measures and displays the air quality.
Comfort at the highest level
In addition to the 2 main operating modes (heating and cooling), HERZ clever&smart offers 4 modules through smart technology: Normal, Turbo, Eco and Off. This allows effortless selection between preset modules for heating and cooling, or by specifying the time window on the selected day, the room temperature can be adapted to everyday life. The modules as well as the heating and cooling times, which room should have how many degrees and when, can be set directly on the room controller or conveniently via mobile.
HERZ clever&smart Family
Control box climate for heating and cooling
Status displays via 14 LEDs
8 zones with up to 4 actuators each controllable
Dew point calculation for each zone and dew point controlled supply temperature control
2 outputs for pump and mixer
Floating changeover contact for heat/cooling requirement
Regulation up to 16 rooms in 1 housing unit
Multiple housing units can share data
Room controller climate WiFi
Suitable for heating and cooling
For configuration and operation of the plant
Measurement of room temperature and relative humidity
Dew point guided flow temperature control
Communication via WiFi with WLAN router
Coloured touch display with glass surface for easy operation
LED controller climate WiFi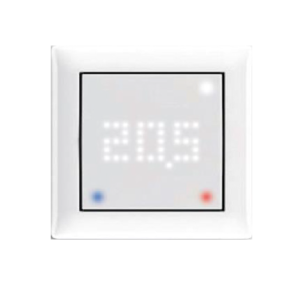 Measurement of room temperature, relative humidity, indoor air quality (IAQ) and CO2
Colour display of air quality (IAQ) in LED
Display and setting of the temperature via the touch display
Communication via WiFi with room controller climate WiFi
Dew point guided flow temperature control
Room sensor climate WiFi
Measurement temperature and relative humidity
Communication via WiFi with room controller climate WiFi
Dew point guided flow temperature control
The air is clean
Indoor Air Quality (IAQ) serves as a benchmark for air quality. This plays a major role in our health indoors. The more polluted the air, the higher the risk of infection or airborne diseases and contagions. Most of the time, people do not ventilate until the stuffy air is already noticeable.
HERZ clever&smart LEDcontroller climate measures the air quality and the CO2 content in the interior through the integrated sensors and shows these via colour codes on the display of the LEDcontroller. In this way, the first signal to take action is given in real time and before it is too late.
The mobile technology
The entire system can also be paired with a smartphone via WiFi if desired. With the app, the desired room temperature at the desired time can be conveniently set from anywhere and adapted to one's own daily routine. In addition, the app, which is available in various languages, also offers easy communication for the service technician. In addition, the app provides you with an overview of the rooms, temperatures and relative humidity.
HERZ clever&smart offers you ease of use and comfort for a controlled and effortlessly adjustable heating and cooling system. Easy operation can be done remotely with iOS / Android apps as well as with touch sensor controllers included in various product packages. HERZ clever&smart reduces your energy costs while increasing comfort.
Send us your feedback to office@herz.eu and help make HERZ clever&smart even better. HERZ clever&smart is the product for heating and cooling solutions.